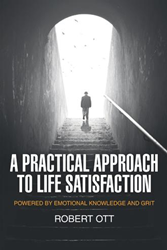 ST. LUCIA, Floride (PRWEB)
22 mars 2022
Robert Ott tisse un contenu académique avec des récits personnels et des questions de réflexion afin que les lecteurs puissent affiner l'outil de courage avec l'intelligence émotionnelle pour atteindre la satisfaction de la vie dans son nouveau livre "A Practical Approach to Life Satisfaction: Powered by Emotional Knowledge and Grit "(publié par Archway Édition).
Le livre soutient que s'efforcer constamment de rechercher la reconnaissance est plus susceptible de pousser les gens au sol que de les conduire à l'épanouissement. Cependant, lorsque le courage travaille aux côtés de l'intelligence émotionnelle, il peut produire des améliorations spectaculaires de la satisfaction de la vie, selon l'auteur. Ott pense que le livre est une ressource essentielle pour les enseignants, les parents et les autres personnes qui façonnent la prochaine génération.
L'auteur espère que son livre apprendra aux lecteurs : « Que la vie est dure pour la plupart d'entre nous. Pourtant, la souffrance fait partie de la beauté associée à la vie qui nous permet de grandir et d'évoluer vers des personnes plus épanouies. Reconnaître quand nous nous sentons insatisfaits et pourquoi est une maxime importante pour les besoins de ce livre."
Un extrait de "Une approche pratique de la satisfaction de vie :"
Le courage, défini comme la persévérance et la passion malgré les obstacles, a reçu beaucoup d'attention, mais les livres sur ce sujet idolâtrent souvent les réalisations au détriment de la santé mentale. Par exemple, lorsqu'Ernest Hemingway a remporté le prix Nobel de littérature en 1954, il avait fait preuve d'un véritable courage en endurant une blessure de guerre, en étant témoin de la guerre civile espagnole et en écrivant quinze volumes révolutionnaires de littérature. Pourtant, en 1961, il a divorcé de trois femmes et s'est suicidé.
"Une approche pratique de la satisfaction de vie" est disponible à l'achat en ligne sur le lien Archway ci-dessus, auprès de Barnes & Noble et sur Amazon à l'adresse : https://www.amazon.com/Practical-Approach-Life-Satisfaction-Emotional/dp/ 1665716762.
"Une approche pratique de la satisfaction de vivre"

Par Robert Ott

Couverture rigide | 6 x 9 pouces | 248 pages | ISBN 9781665716765

Couverture souple | 6 x 9 pouces | 248 pages | ISBN 9781665716741

livre électronique | 248 pages | ISBN 9781665716758

Disponible sur Amazon et Barnes & Noble
A propos de l'auteur

Robert Ott est titulaire d'un baccalauréat en psychologie de l'Université Stony Brook et d'un doctorat en psychologie de l'Université Capella. Il a étudié et recherché les concepts de courage, d'intelligence émotionnelle et de satisfaction de vivre tout en travaillant sur sa thèse. Parallèlement, il a travaillé comme professeur de psychologie à l'Indian River State College. Pour plus d'informations, visitez http://www.RobertAOtt.com.
Simon & Schuster, une société avec près de 90 ans d'expérience dans l'édition, s'est associée à Author Solutions, LLC, un leader mondial de l'auto-édition, pour créer Archway Publishing. Avec des ressources uniques pour soutenir les livres de toutes sortes, Archway Publishing propose une approche spécialisée pour aider chaque auteur à atteindre son public souhaité. Pour plus d'informations, visitez archwaypublishing.com ou appelez le 844-669-3957.
Partagez l'article sur les réseaux sociaux ou par email :