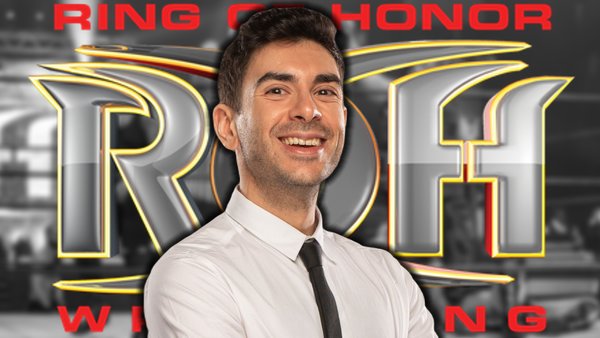 Il semble que l'émission télévisée hebdomadaire Ring Of Honor se poursuivra après l'achat par Tony Khan de la promotion de Sinclair Broadcasting Group.
S'exprimant lors de son entracte régulier sur Busted Open Radio, le fondateur, booker et président d'AEW a déclaré qu'il relancerait l'émission hebdomadaire après l'événement Supercard of Honor du 1er avril. Alors que cette émission entre en collision avec un épisode d'AEW Rampage le même soir, Khan a pensé qu'il était important que cela fonctionne après que ROH ait déjà vendu des billets : –
"Je n'avais pas prévu ce PPV… mais je pense vraiment que c'est important pour moi parce qu'ils ont vendu les billets et se sont engagés envers les fans à refaire le spectacle."
Poursuivant, Khan a déclaré qu'il considérait Supercard of Honor comme une émission de transition, reliant une époque à une autre, ajoutant que le produit hebdomadaire redémarrerait plus tard : –
"Je le vois comme une émission de transition à bien des égards qui me passionne vraiment parce que c'est la première émission sous la nouvelle direction. C'est aussi une émission de transition avant de relancer ce que j'espère être une fantastique nouvelle télévision Ring of Honor produite, une série . hebdomadaire, où qu'il passe à l'antenne ou en streaming. »
Reste à savoir quelle forme prendra l'émission hebdomadaire ROH après la Supercard. Bien que l'émission ait été diffusée sur Sinclair avant l'acquisition de Khan, annoncée plus tôt ce mois-ci, il n'est pas clair si le nouveau régime ROH conservera ou non la syndication.
S'exprimant après le pay-per-view AEW Revolution 2022 le 6 mars, Khan a déclaré qu'il avait encore beaucoup à comprendre en ce qui concerne les opérations de ROH, y compris la distribution des produits : –
"Il y a encore beaucoup de choses que nous devons comprendre. La distribution est une très bonne question et ce que nous ferons à l'avenir. Cela suppose que nous ferons quelque chose à l'avenir. Je veux continuer les opérations pour cela et j'ai de nombreux plans pour Je m'attends à poursuivre les opérations pour cette lutte et c'est aussi une bibliothèque très précieuse que nous avons acquise. Distribution, je ne peux encore rien dire sur ce que ce sera et comment il vivra et existera. Je suis très excité , non seulement sur la bibliothèque et le contenu passé, mais aussi sur les opportunités de créer plus de contenu. Évidemment, il existe de nombreuses autres sources de revenus, le marchandisage, qu'ils pourront générer, mais cela crée beaucoup d'opportunités pour nous. C'est Pour AEW, stratégiquement, je pense que c'est très bien que je possède maintenant aussi la Ring of Honor. "
La même mêlée que Revolution 2022 a vu Khan confirmer qu'il avait l'intention de poursuivre les opérations de lutte de la ROH, avec lui-même comme booker : –
"Je serai le booker. Je vais faire venir de jeunes combattants et ils ont beaucoup de jeunes combattants. Nous avons beaucoup de succès ici et nous nous débrouillons très bien ici. ".
Khan est à la tête de la création et de la réservation principale d'AEW depuis le début de la promotion, bien qu'une restructuration en décembre 2019 ait vu son influence augmenter au milieu d'une diminution pour les vice-présidents exécutifs de l'entreprise.